Haiti
 "We are not waiting for others to solve our problems. Too many groups have come and trained people to expect charity. When they leave, there is nothing left. I would not participate in PICO if I didn't believe that we will be different."
-FLORCIE TYRELL, OPODNE EXECUTIVE DIRECTOR
Recent News
Our vision is to build an organization with the capacity to transform Haiti and recapture the tradition of democracy and equity. Check out the latest news with OPODNE in Haiti.
History & Methodology

PICO International's newest organizing project, Organisation Peuple Œcuménique pour le Developpment du Nord-Est (OPODNE), was formally launched in August 2014 when 100 leaders from across Northeast Hait. Leaders gather weekly to tackle issues fundamental to the survival of their children and families. Communities are organizing their labor for basic sanitation, establishing computer training centers for youth, building roads to get their crops to market, and forming cooperatives to establish a source of income. Government may be broken in Haiti, but people are not.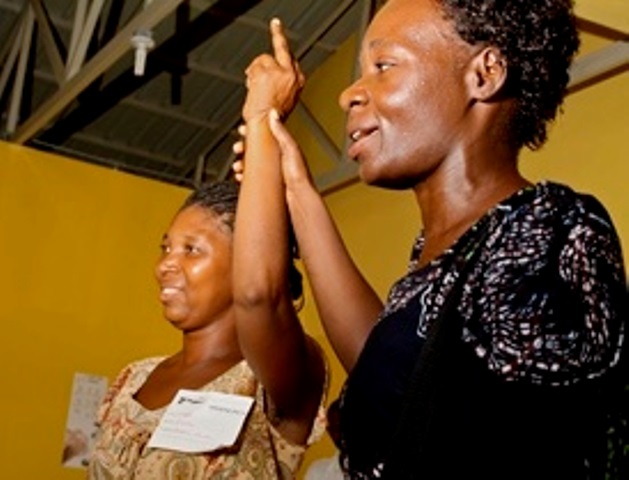 Key Accomplishments
OPODNE is is a locally based, government recognized NGO operating for three years supporting local communities across the Northeast Department of Haiti.  OPODNE trained over 500 leaders and helped them form Organizing Committees in thirteen towns. Over 2,500 people were involved in self-help activities.
Capotille
In Capotille, leaders established a peanut co-op to prevent exploitation of farmers by loan sharks. They are taking responsibility for the environment by working with the government to rebuild roads and plant trees. They are now researching how to process and market their peanuts.
Grand Bassin
In Grand Bassin, 75 leaders started a chicken co-op and successfully marketed 200 chickens to address hunger and build economic opportunity. The Grand Bassin mayor's office put land at our disposal which could be used to expand the chicken co-op.
Terrier Rouge
Terrier Rouge leaders are researching economic development opportunities, focusing on the design and planning for a restaurant.
Phaeton
In Phaeton, leaders purchased a boat to build a fishing cooperative and feed their families. They are now researching how to improve marketing practices.
Caracol
In Caracol, a newly formed Local Organizing Committee is undertaking a project to build new latrines and educate the community on sanitation practices and have begun a computer training program.
Paulette
In Paulette, the Local Organizing Committee is supporting the agricultural cooperative and researching how to address needs for water.
St. Suzanne
In St. Suzanne, the Local Organizing Committee is exploring establishing a training program for seamstresses who could find employment at the Caracol Industrial Park.
Mombin Crochu
In Mombin Crochu,  leaders  organize labor days to repair roads and plant trees. This has led the World Bank to consider investing $100,000 to develop a sorghum cooperative. They also completed a contract to re-construct the road to Grande Savanne.
Mont Organise
In Mont Organize,  leaders' have organized a cooperative and planted, cultivated and marketed thier first crop of peppers.
Ouanaminthe
In Ouanaminth, OPODNE has organized a Youth Social Club teaching organizing skills to more than 50 young leaders who are building a culture of service and exploring ways to meet the employment needs of young people.
Vallieres
In Vallieres, Local Organizing Committee members have planted citrus trees and constructed roads without government support. They have identified issues of health care  and training in agriculture and food preservation. They need technology for a machine to mill corn and sorghum for market.