Central America

"I never thought that we, as regular citizens, could have face-to-face meetings with high public officials, and bring them into our public actions to get their commitment to work with us in solving our community issues.  Knowing how to do research meetings has led to very productive outcomes, and we are learning how to build strong relationships."  
—MANUEL CERON, EL SALVADOR ORGANIZER
Recent News
The time-tested PICO leadership development method is successful building leaders among low income people in El Salvador and Guatemala in their parishes and communities. Check out the latest news from Central America.
History & Methodology

PICO Central America is the first international project of the PICO Network. In 2002, Cardinal Oscar Rodriguez, Honduras, reached out to PICO to explore his vision of developing grassroots leadership among ordinary people through the Central American Catholic Church.  He saw PICO's leadership development method as an important tool that complemented efforts by the church to fight poverty in all six Central American countries. Introductory trainings took place across the region over the next few years, and in 2008, Salvadoran grassroots leaders came together to launch their own organization, Comunidades de fe Organizadas para Accion (COFOA). A group of the bishops who invited PICO to Central America continue to support the development of Central American organizing work and the eventual building of organizations in each country.
PICO Central America builds the capacity of ordinary people to become leaders, demonstrating self-reliance and self-sufficiency, and bringing their faith values into the public arena to transform their communities into better places to live, where community members experience justice, dignity and equal opportunities.  As grassroots leaders gain confidence and skills in negotiating with public officials, civic participation is strengthened and together they find solutions to community needs.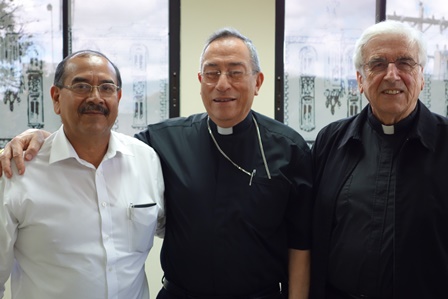 Key Accomplishments
Over the years, COFOA leaders have gotten nearly 6 million dollars of public funding to repair road, bridges, and parks; re-open a community health clinic; improve access to clean water and establish new public safety measures. Over 1,000 grassroots leaders and clergy have been trained across El Salvador since 2008, and in 2010 we established a strong organizing group in Guatemala. Currently a core group of 200 leaders work in coaliton with groups across El Salvador to address issues of violence and access to water.  Thousands of people have been reached through listening campaigns to surface their concerns, and over 5,000 have attended large public actions over this time period. In Guatemala, hundreds of residents have attended trainings, a core group of around 40 grassroots leaders has emerged, and over 3,000 residents have attended public actions. 
Santiago Nonualco
In Santiago Nonualco, 8.5 km of road has been paved between San Antonio Abajo, San Antonio Arriba, and Santa Cruz, valued at $1.5 million. In San Luis Joponita, 1km of road has been repaired valued at $300,000.
Cuyultitan
In Cuyultitan, the city park in front of the church was repaired and a street in front of the school was paved – together valued at $50,000. A first of its kind alcohol abatement ordinance was enacted and resulted in the closing of bars and illegal alcohol sales.
San Pedro Nonualco
In San Pedro Nonualco, an alcohol abatement ordinance was enacted as well. A clean up campaign netted two dump trucks of trash and raised environmental awareness. A safety campaign resulted in formation of six neighborhood watch groups for public safety to deal with escalating violence.
San Juan Tepezontes
In San Juan Tepezontes, 300 people came together with public officials to celebrate three years of work to support youth and engage residents in conversation and decisions to build a safe, healthy community free of violence. Another action resulted in the delivery of clean water to the town three times a week as opposed to often contaminated water delivered once or twice a month. Leaders are conducting a public health and education campaign and visited 150 homes to bring bleach and water purification chemicals for the cleaning of water storage tanks to prevent dengue fever.
Zacatecoluca
In Zacatecoluca, 350 youth launched the "More Employment and Less Violence" campaign. After sharing stories about these issues, they turned to political leaders from the La Paz to sign a pledge of support. The Mayor of Zacatecoluca promised to support thier efforts.
Barahona
In Barahona, leaders have been successful in reopening Casa de Salud, a community health clinic. They have lead the fight for community policing, providing a space for substation and meeting monthly to insure accountability.
El Rosario
In El Rosario, fifty leaders gathered on the main street of the small neighborhood of Galillee to press public officials to make sure they actually own the land they live on. People want that confusion about improperly recorded deeds cleared up so they can have peace of mind that the homes they live in are actually theirs and cannot be taken away.
San Marcos Lempa, Usulutan
In the Lower Lempa River valley, sixty leaders are meeting with the governor, legislators, the mayor and city council to press the Ministry of Public works to construct the long promised bridge over Rio Roldan.
Caravan for Peace, Life & Justices
COFOA leaders took their campaign against violence from rural villages to the national and international stage. For the three years, thousands of people have marched to say "Stop the Violence". In April they joined the Caravan for Peace, Life and Justice to march from El Salvador to the United Nations to say, "End the war on drugs". Leaders met with US Congressional leaders to push for investment in prevention strategies, advocating for a public health and harm reduction approaches to drugs and violence.
San Miguel Tepezontes
In San Miguel Tepezontes, COFOA leaders are responding to threat of the Zika virus with a public health campaign. One hundred fifty youth and adults kicked off the campaign with a cleanup of the Calvary neighborhood.
San Salvador University Leaders
Student leaders from four Universities in San Salvador are conducting workshops to inform faith, NGO and university leadership about existing drug laws. Following their involvement in the Caravan for Peace through Central America and Mexico to the United Nations Special Assembly on Drug Policy, COFOA leaders continue to press the need to challenge the failed "War against Drugs".
Guatemala
In Guatemala, leaders led a very successful town clean up, the city has repaired 6 of 12 public laundry sites valued at $20,000, and launched an environmental and recycling campaign.