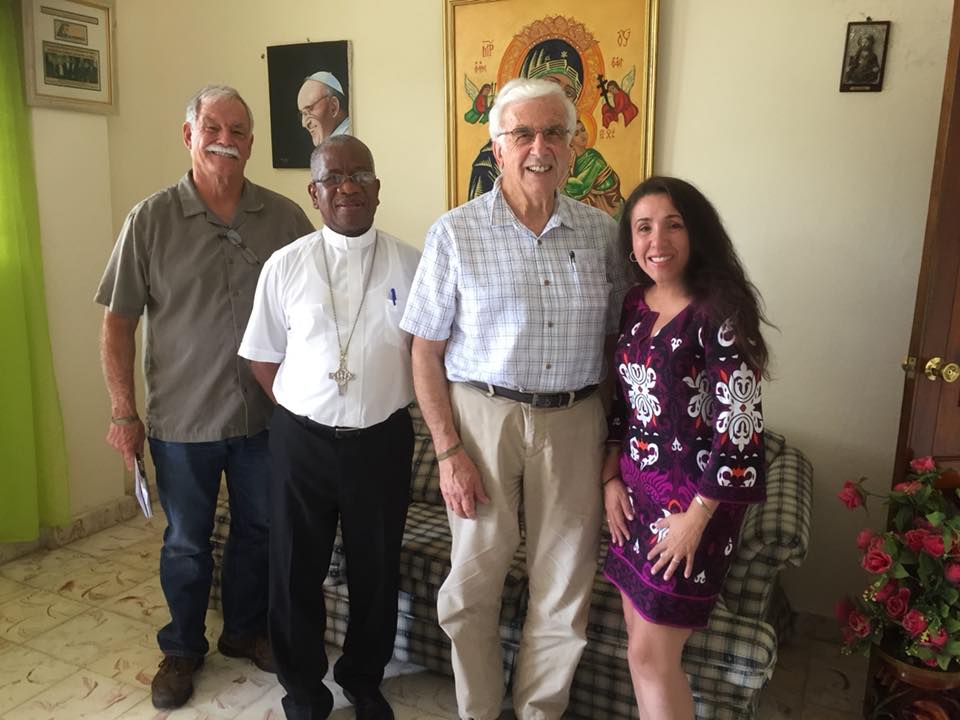 A report from the Faith in Action delegation to Haiti
Father John, Ron, Francois and all the OPODNE leaders:
I would like to thank Father John Baumann, Ron Snyder, Francois Pierre-Louis and all the OPODNE leaders for the opportunity to join the International delegation to Haiti that took place from August 15-22.
The time shared with leaders in OPODNE was inspiring and opened my eyes about how deeply transformational the work that Faith in Action through OPODNE is promoting in Haiti. I was not new to Haiti. Some years ago, I coordinated a project with labor organizations in the Caribbean Area that included Haiti as part of our strategy to empower workers. As a result, I was aware of Haiti's culture, development and its history of organizing for Social Change.
I think this is why I am so impressed by the effectiveness of the work that is happening there. I know, first-hand, how challenging it is to build effective and sustainable models like the ones that our Clergy, Lay Leaders and Communities are building under Faith in Action's International leadership and guidance.
OPODNE has an impeccable reputation of accountability and transparency that is admirable, from farmworkers, to school directors to the Clergy and Bishop that we met, all recognized OPODNE's position as an effective agent of social change. The organization serves as an alternative to the traditional bureaucratic, corrupt models that maintain the power of the elites over and against the oppressed population of Haiti.  OPODNE has taken the initiative in developing a Social Justice Movement as well as community-based, sustainable economic models which allow towns and villages to take control of their destiny. OPODNE enables its members to imagine the possibilities of dismantling the colonialist model that keeps them in poverty and powerlessness.
As a result of OPODNE's vision and philosophy and despite the challenges it faces, local leaders have been able to establish several organizing committees which have sponsored a variety of projects including chicken coops, peanut farms and micro credits. These projects have all experienced some degree of success in the rural areas.
I believe that OPODNE's model of popular education can be an important tool in addressing issues of national importance. These include such issues as:
* the need to increase the minimum daily wage,
* the right of workers to have a salary that reflects the cost of living,
* the continuous devaluation of the gourde (the national currency),
* the despotism in the workplaces
* policies that mitigate against a real and sustained development of Haiti's resources and
* the need for a government that recognizes the needs of the poor, the oppressed and the working class.
As a person of faith who is also an organizer and activist, I left with one challenge. How can I stress the importance of the work that is happening in Haiti to my colleagues and friends in the United States? I am aware that Haiti's struggle must be understood in the larger context of similar struggles being faced by Black and Brown communities in the United States and the rest of the world.
While we fight in our own backyard for liberation, justice and equal rights we must remember that it is our moral duty to demand liberation and opportunities for all places like Haiti. It is no small irony that has been has been oppressed and punished historically for the audacity to become the first country where slaves revolted and won freedom from their masters.
In Haiti we have a golden opportunity to create something bigger; to lift up not only those currently involved but to help OPODNE expand to other areas and bring deep transformation to those who need it the most. Here we have the opportunity to assist Black and Brown People in achieving lives with rights and dignity in Haiti.
Another World is possible.
In Solidarity,
Maria Revelles
Organizing Director
Faith in Florida